Something's Happening Here
America in the 1960s was explosive. It was arguably one of the most volatile times in our cultural history. Marked by civil disobedience, distrust for authority, drug-induced euphoria, and experiments in communal living, this era represented a seismic shift toward free expression--not the least of which was in music.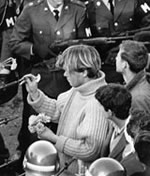 By 1965, the Beatles had all but abandoned their fab-four persona and were already full-tilt into their musical experimentation in the studio, marked by the band's landmark album Rubber Soul. This, followed by 1966's Revolver, forever changed the landscape of popular music. What followed was nothing short of a musical renaissance that saw musical groups breaking in all genres. Cream (British blues), Jimi Hendrix (acid-rock), Traffic (progressive rock), Santana (Latin rock), Simon & Garfunkel (folk), the Who (hard rock) and countless others. It was also a time when artist and repertoire staff working in the recording industry were musicians and producers themselves, rather than corporate MBAs.
Between the years 1965 and 1972 there was an artist whose musical roots and raw talent covered just about every genre described above. Stephen Stills, who entered the decade as a coffee house folk singer in Greenwich Village, would over the next 7 years write one of the most enduring protest songs, create a choral mix that would inspire bands as diverse as the Eagles, the Who, and Yes, play some of the era's most memorable guitar riffs, and become a songwriter with more good tunes in his bag that many of the most prolific tunesmiths of the time.
This site is devoted to this artist's musical output between 1965 and 1972, offering my musings on all that he accomplished and why it's so important. Please use the menu options to explore the musical phases of Stephen Stills' early career.